Meyer Lake Reviews
Langlade County, WI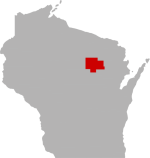 SHARE THIS PAGE
There are currently 4 reviews for Meyer Lake.
Tell others what you think of this lake by writing your own personal reveiw:
SUBMIT YOUR LAKE REVIEW
June 27, 2018
"This lake is simply amazing, a hidden gem. Bass are everywhere, they never stopped biting and had 20 plus bass in less than 2 hours. I mostly used top water, but senkos worked like magic as well... The whole lake is nothing but structure as there is zero homes on the lake. We had a nice gentleman tell us how to fish this lake for panfish as we couldn't land one to save our butts, and within minutes my wife had landed 2 10 inch bluegills and out fished me 2 to 1 for bass. The landing is VERY steep and not very wide but you can get a decent sized boat in the water if you are good at backing up. Best lake I have ever been to hands down if your fishing for bass or pan fish. Depending on the days you go water can be murky with a visibility of about 4ft to pretty stained with minimal visibility. Lots of lily pads, but very little weeds and lots and lots of underwater trees."
June 6, 2006
"Fished this lake recently. Lots of bluegills but most are 6" or smaller. Bass up to 15" but haven't caught anything larger."
March 21, 2003
"This lake has mainly bluegills, northern pike, and largemouths. This is a seepage lake, and the water has the clarity of coffee. There are a lot of small bass in here. I have never caught a bass out of this lake over 14". However, I haven't fished it in a few years either. The landing is far better than it used to be. It's a little tight, but it's paved, and if you're good you could put in just about any fishing boat. There are not a lot of northerns, and the size is usually about 24". The bluegills in this lake are nice sized. I have seen 10" bluegills caught from this lake. This is a very small lake. Catch and Release of any larger fish is highly recommended."
June 27, 2002
"Panfish small. Slow no wake. But Bass huge and very plentiful. Saw one guy catch a limit of bass all over 15". Landing is sort of steep but you could put in a 17' if you'd like but no bigger."