Jack Lake Reviews
Langlade County, WI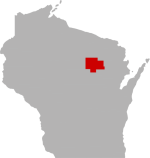 SHARE THIS PAGE
There are currently 8 reviews for Jack Lake.
Tell others what you think of this lake by writing your own personal reveiw:
SUBMIT YOUR LAKE REVIEW
February 21, 2005
"Fun lake to fish with beginners because it is easy to catch fish. Great lake to fly-fish for bluegills in summer. Bass are in the 10-12" range but have caught a handful 15-17. The NW bay and the SE bay by the camp sites hold the best fish. I have snorkled the entire lake and have seen numerous large bass. Some of the shorelines have undercut banks almost 5-6 ft deep at shore and bass hide underneath. Carolina rig with a leech will get them."
May 18, 2004
"Beautiful lake to get the kids started on camping and fishing. Bass are plentiful but small (8-12 inches)some gills (small) and an occasional perch. Friendly, family type atmosphere for camping but hard to get sites (1st come 1st served basis). See you on the 4th"
March 1, 2004
"Fairly nice lake with a number of bass around 12". I have caught a 19"Rainbow Trout out of this lake. My friend caught a 17" Rainbow and a 5 lb Largemouth. Small blugills though."
April 16, 2003
"This lake is a good swimming lake. Very clear water, and a very pretty lake. Outboard motors are not allowed on this lake, but you can use electric trolling motors. Largemouth and smallmouth bass are most of what's caught in this lake. Average size is small. Big bass are few and far between, but I have heard of them being caught."
August 24, 2002
"Fished here about 10 times. Have caught a number of bass all ranging 10-12 inches.All caught from shore. Have had my best luck in the fall when the campers & swimmers clear out. All bluegills I have caught here are very small."
July 8, 2001
"I am avid Bass Fisherman. Bass are plentyfull here. Big fish are hard to come by however. The average size is around 10 inches. There are big ones in this lake. I use crappie minnows and rubber worms and spinners. Fishing is best on the West side pitching under the bogs."
January 1, 2001
"This Lake Is Real Cool Iv´e Been Here With All My Realitive 30 Times"
January 1, 2001
"This Lake Is Real Cool Iv´e Been Here With All My Realitive 30 Times=Wurtingers"