Dynamite Lake Reviews
Langlade County, WI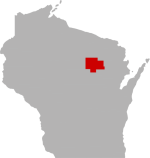 SHARE THIS PAGE
There are currently 1 reviews for Dynamite Lake.
Tell others what you think of this lake by writing your own personal reveiw:
SUBMIT YOUR LAKE REVIEW
August 11, 2006
"I've only fished this lake once. It's supposed to be good. Check your plat book, there is public land that would allow you to get on this lake. I think it has a lot of potential due to very limited access. Try it out and let me know how you do. You would have to hike in with a belly boat or canoe."