Baker Lake Reviews
Langlade County, WI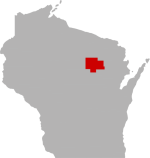 SHARE THIS PAGE
There are currently 1 reviews for Baker Lake.
Tell others what you think of this lake by writing your own personal reveiw:
SUBMIT YOUR LAKE REVIEW
March 24, 2003
"This is a remote lake with only one primitive cabin on it. You can expect to catch a few largemouth bass, but they will be small. Carry-in access only, about 200 feet if I remember correctly. A pretty lake, especially in fall, but not the world's greatest fishing."