Antigo Lake (Kellog Pond) Reviews
Langlade County, WI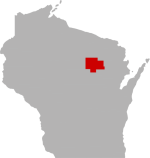 SHARE THIS PAGE
There are currently 6 reviews for Antigo Lake (Kellog Pond).
Tell others what you think of this lake by writing your own personal reveiw:
SUBMIT YOUR LAKE REVIEW
February 5, 2009
"This lake is shot thanks to the city practically draining the lake all the time. Only a foot of water under the ice in winter now. Used to be my favorite lake monster fish of all species. This place is now the dead sea I quit fishing it, even though this is the place I learned everything i know about fishing. WHAT A DARN SHAME"
January 28, 2005
"This lake holds some very big fish if you can find them.Caught a northern "48 in. and released it, so I know the big ones are in here. I've also caught my fair share of Brook trout in the Spring Brook, which flows into and out of Antigo lake.Over the years I have caught many very nice fish here, including a "14 & 1/2 in. Brook trout I caught last season on a fly rod."
March 24, 2003
"This lake does have some really nice fish in it. However, it can be really tricky to catch them. There are some big northerns, but catching them (for me, at least) is next to impossible. If you use a boat, that would give you an advantage over about 95% of the lake's fishing pressure. If you put a canoe in above the swimming pool and go upstream, there is some pretty good trout fishing. Most planted fish, but fun nonetheless."
June 27, 2002
"Never fished here with a boat before, I always shore fished. When I used a boat, I was shocked at the Bass population being so good. Fish with Shallow cranks or with Spinnerbaits."
December 1, 2000
"Has Great Northern Pike If You Know What To Use."
September 29, 2000
"Good For Perch And Bass In Spring Only"