Airhole Lake Reviews
Langlade County, WI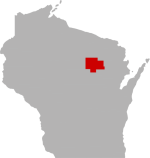 SHARE THIS PAGE
There are currently 2 reviews for Airhole Lake.
Tell others what you think of this lake by writing your own personal reveiw:
SUBMIT YOUR LAKE REVIEW
March 31, 2008
"according to the wisconsin lakes book, this lake has a boat ramp, and contains bass and panfish."
July 7, 2007
"The only way to fish this lake is to own property on it, or know someone who does. From what I know this lake does NOT contain any muskies, and that is nothing more than an old wives tale. What it does contain is an endless supply of perch 3-4in in length, and some AWESOME large mouth bass fishing. Problem is finding the fish... they're few and far between. Not sure if the lake freezes so hard every winter it kills off all the young large mouths, or if the perch get them. What bass are there though range from 17-26in in length. The lake is VERY hit and miss. One day you can slay em and the next you can have no luck what so ever. I can not say this enough times though, catch and release is VITAL on this lake... I caught three bass last time I was there, 18, 18.25, and 22.5 which was 4 pounds and I released them all. Great fishing if you know where to fish it, how to fish it, and have access to it."