Ada Lake Reviews
Langlade County, WI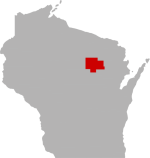 SHARE THIS PAGE
There are currently 3 reviews for Ada Lake.
Tell others what you think of this lake by writing your own personal reveiw:
SUBMIT YOUR LAKE REVIEW
May 19, 2011
"Was nice to find this in here. Spent several years camping with the Family in the 60's, right after the Campgrounds opened. I've got good memories, but don't know how the parents put up with 5 kids in a tent for two weeks ! : ) All that mattered to a 5 - 11 yr old boy was the row boat and the beach. And the Bears raiding the kitchen tent at night !!!!"
April 26, 2011
"This lake is a very peacefull lake, and a deep one. I have been camping at this campground and fishing this lake since I was in first grade, (1999) with my dad. I enjoy fishing and camping on this lake every year. The fishing can vary from year to year for panfish, but overall the fishing can be good if you know what to do and where to fish."
April 8, 2009
"Quiet, electric motors only lake. Has a National Forest campground (about 25 sites) and beach on it. Fishing for panfish, bass, northern is great! If you prefer a canoe to a jet ski this lake is what you're looking for,"