Beardsley Lake Reviews
Lafayette County, WI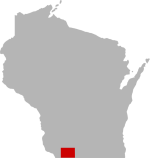 SHARE THIS PAGE
There are currently 1 reviews for Beardsley Lake.
Tell others what you think of this lake by writing your own personal reveiw:
SUBMIT YOUR LAKE REVIEW
August 16, 2001
"This man made lake no longer exists. To the best of my knowledge, the DNR deemed the dam unsafe years ago. The lake was drained and the private campground is no longer open to the public."