Turtle Flambeau Flowage Reviews
Iron County, WI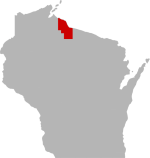 SHARE THIS PAGE
There are currently 23 reviews for Turtle Flambeau Flowage.
Tell others what you think of this lake by writing your own personal reveiw:
SUBMIT YOUR LAKE REVIEW
April 9, 2018
"Favorite lake in Wisconsin, hands down. Fishing is easy, you don't need any electronics or anything special do get on fish. Just fish an island where the wind is blowing in, and jig or throw your favorite rapalas. If you're jigging you can pull up anything. If its your first time on the lake go SLOW, watch out for logs, stumps, and rocks. Don't be the one who ruins their motor, and needs a tow back to the landing. Also when its windy out don't think this lake won't get rough, you'll be mistaken greatly."
January 6, 2017
"Best wilderness lake in Wi.Canadain type feel up there that has great walleye and smallmouth fishing"
January 3, 2017
"TFF is one of the best walleye lakes in Wi period.It hold size and numbers and ive caught fish up to 29 inches and bonus giant crappie.Next best thing to Canada"
August 3, 2009
"wilderness filled flowage. under fished for the most part. good walleye fishing but descended a lot because of spearing although recently i heard its been coming back pretty strong. bass are abundant and available in nice size. panfish are big and getting more numerous. muskies are known to be big but the size has been down in recent years. be careful! lots of stumps, rocks and floating logs await you!!!"
February 9, 2009
"slayed the walleyes in may. slayed them again in late december. nice smallmouths too"
January 3, 2009
"Beautiful body of water, Great shorelines with little developement and not much pressure. Lots of walleye, but you have to work to find big ones. Great smallmouth, with lots of 4lb and bigger fish. Decent musky fishing with the average size around 40 inches. Panfish are getting better."
September 14, 2008
"The TURTLE FLAMBAUE FLOWAGE in my opinion is the the most beautifull and walleye aboundant flowages in Wisconsin!! I fish there twice every year..."
October 15, 2006
"fished this flowage 45 years,walleye size way down from years past.more muskies but alot smaller avg size.think stocking has hurt natural turtle river strain of muskie size. indian spearing doesn't help"
September 8, 2004
"I've been fishing the flowage for over 30 years now. It is still one of the nicest wilderness area's for fishing,camping etc. Walleye's are everywhere. Smallmouth fishing just keeps getting better and the Musky fishing is still great. There is also big perch,crappie and gills. This flowage changes depths from spring to fall and is difficult to navigate due to stumps and rock bars. Not a lake for pleasure boating, skiing or pwc's. This lake is the closest thing to the boundary waters, and alot closer."
November 5, 2003
"GREAT PLACE TO CATCH FISH, GOOD SMALLIES AND WALLEYES, STILL LOOKING TO GET MUSKIES DOWN PAT, LOOK OUT FOR PROP MONSTER LOST ONE TWO YEARS AGO"
August 15, 2003
"Beautiful Lake, Good Fishing, Muskies are an unkown have heard of 45" and up,small norherns, Nice sized Smallies, Have to get the Walleyes on the right day. Camp on an island and have a great time"
July 16, 2003
"I've been fishing this flowage for ten years and still find new spots. Ive seen trophy muskies, pike, walleye, and perch taken out of this lake."
April 22, 2002
"I love this lake because of what you can catch like muskie, sm bass, and the giant walleye! be careful of the floating logs."
February 1, 2002
"It is a very under fished flowage that hold trophy size muskies, also the lake holds tons of walleyes. The lake also holds a large population of small mouth bass and crappie. Each year me and my family go up there and do awsome."
December 1, 2001
"most fish to deep.fish 3ft or less in as much junk as you can find,east side of main lake best.fish this bay in windy days and towards night. use floating rapala or twistertail,large tail small jig ,you will limit.fished flowage 25yrs."
March 12, 2001
"Always Catch Fish There, Most Underfished Musky Waters In The State!"
January 27, 2001
"Canadian Like Scenery. Walleyes Run Small. Indians Ruined The Walleye Fishing."
October 13, 2000
"Love The Flowage. Monster Crappies When You Find Them. Awesome Wildlife."
September 22, 2000
"Smallmouth Good . Average Walleye Size Is Real Small From What It Used To Be,and Numbers Low"
August 15, 2000
"Some Cigar Walleyes Hard To Fish"
August 13, 2000
"Used To Be GREAT.WALLEYE Numbers Way Down From Years Past Also Muskie Size Down Indian Spearing?"
May 2, 2000
"Large Body Of Water, Lots Of Fish Once You Learn The Spots. Awesome Scenery."