Little Green Lake Reviews
Green Lake County, WI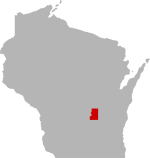 SHARE THIS PAGE
There are currently 25 reviews for Little Green Lake.
Tell others what you think of this lake by writing your own personal reveiw:
SUBMIT YOUR LAKE REVIEW
February 12, 2019
"Been slaying the northern and big gills out there."
December 21, 2017
"Nice lake, with decent fishing. Good mix of fisherman and recreational boaters."
November 22, 2016
"Lots of really tiny bass in the lake this year. Pain in the butt when panfishing!"
July 13, 2016
"I never leave this lake empty-handed! We have caught a number of smaller walleye and panfish, but there are some monster 20+" bass lurking in the weeds."
September 26, 2011
"Fishing for most species is good. This lake will not be able to sustain though with the lack of CPR. Every legal fish is kept and will be the demise of this lake!"
June 20, 2011
"good bass fishing, so far all my bass have ben 15+ inches, my biggest being 17.5 inches. i caught it on a rattling rapala by jigging it in its nest."
February 1, 2011
"Will be a great perch fishing lake in a few years. Right now they're to small to keep."
June 1, 2007
"This is one of my favorite lakes to vist always have luck with pan fish. We always seem to find the big ones by the island. Just a fun lake to fish"
March 4, 2007
"Overrated to much pressure but if you troll crawler harnesses you will caught walleyes."
December 15, 2006
"Great pan fish lake especially perch"
December 18, 2004
"I fished this lake with a few of my fishing buds last winter for the first time and lets just say ill be going back every ice up. One of the best pan fishing lakes I've ever been on."
March 14, 2004
"I've been fishing Little Green around 15 years now and I've never gone on it and left empty handed. There is excellent panfishing on these waters, an awesome musky population per square foot of the lake also. Recently the walleye are finally getting up there in numbers. ( I suggest CPR with the eyes for now till the population becomes better established). And you can always guarantee yourself some bass during spring, summer, and fall. I highly recommend this lake. Good luck and Tight Lines."
February 6, 2002
"Very good summer lake...for large mouth bass preferbly plastic worm fishing under docks...by trees and in shadows.... many of time come out with limits.....excelent lake. Aalso good for muskies."
October 19, 2001
"Very strong muskie water. Great numbers lake; I suspect some trophy potential too . . . We CPRd a 46-25 last Sunday (10/14/01)."
June 13, 2001
"Caught 45 Blugill, 6.5-7 In. Long 6/10/01"
June 6, 2001
"Great Pan Fish Lake. Caught About 50 Perch Within 2 Hours. Great Lake To Take Kids To."
June 5, 2001
"Musky, Missed A Nice One At Least 50". Couple Nice Northern Too. (36",32",32.5", 33"!!!)"
June 1, 2001
"Caught Alot Of Panfish Nothing To Big Though. Very Nice Quiet Lake."
June 26, 2000
"Algea Bloom, Didn´t See One Fish In 3 Days. Plenty Of Dead Ones. Somethings Wrong"
May 4, 2000
"This Lake Offers Great Muskie Fishing!!!"
January 22, 2000
"Great Ice Fishing You Want Action Come Here"
July 18, 1999
"To Much Greenage Bad Smell To Many Speed Boats"
June 15, 1999
"As Far As Musky Fishing Comes, It´s A Great Lake!"
May 27, 1999
"Excellent Lake For All Species! Huge Musky And Huge Bass And Some Nice Walleye"