Stewart Lake Reviews
Dane County, WI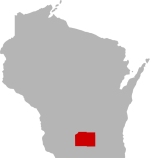 SHARE THIS PAGE
There are currently 5 reviews for Stewart Lake.
Tell others what you think of this lake by writing your own personal reveiw:
SUBMIT YOUR LAKE REVIEW
February 8, 2012
"Went ice fishing last week during the superbowl. Ice was ok, but thin on one end because of small springs and creek flow. Caught some small panfish and a small bass. Went their looking for rainbows, but apparently hardly none made it through the regular fishing season. If you want to go to a somewhat quite place, this is a good spot."
May 7, 2011
"Good lake for trout. Caught 6 keeper-sized rainbows in less than 2 hours. Only tried one shore, so there's still more to explore. Didn't have any luck with the bass."
January 29, 2005
"There are 22"+ LM bass in there as well as 20"+ trout. Very few gills that you could take a knife too."
July 31, 2000
"Nice Trout And Bass But Small Panfish"
May 2, 2000
"Corn Is A Good Thing To Use When Fishing For Bass And Panfish."