Gordon Lake Reviews
Ashland County, WI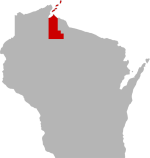 SHARE THIS PAGE
There are currently 4 reviews for Gordon Lake.
Tell others what you think of this lake by writing your own personal reveiw:
SUBMIT YOUR LAKE REVIEW
June 5, 2019
"Going down hill too much pressure 2018- 19 walleyes scarcer some smaller perch sunfish ,black crappie still ok when spawning"
December 6, 2010
"Great Lake!!!! I go up there for a week in june and we catch a bunch of fish..."
June 4, 2006
"Gordon Lake is a good training and sit back and relax lake. The northern are more than willing to bite any time of the day. The crappie can be huge if you fall on them. The wallye are OK if you know where to find them. Don't expect trophies, they are few and far between in Gordon. This list of species for the lake is incorrect. Erase blue gill and largemouth bass. Add black crappie,yellow perch and rock bass."
July 1, 2005
"This lake is Awesome!! I go up to the area a few times a year and this is the first I've ever fished it. I am a novice fisherman, but really getting serious about it this year. I was out on the lake the first weekend in June just killing' perch, football size perch. These babies were huge. Also caught lots of small northern. Fun factor was way up there!!"