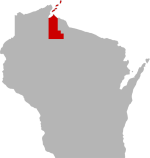 This listing includes state-owned public boat access for Pewaukee Lake. The list is not all inclusive and there may be additional boat launches either public or private on this body of water.
GORDON LAKE ACCESS
MUNICIPALITY:
TOWN OF GORDON
LAUNCH DEPTH:
deeper than 3 feet
# VEHICLE/TRAILER STALLS:
1-5
Vehicle trailer parking is at the Town Hall. Blacktop to gravel to lake bottom launch.