Wolf River Gills landing, Waupaca County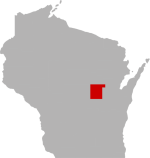 SHARE THIS PAGE
| | |
| --- | --- |
| | @ the lake |
DISPLAYING 1 TO 10 OF 128 POSTS
FILTER OPTIONS
4/22/19 @ 8:15 AM
FISHING REPORT
MOON PHASE (87%)
Waning Gibbous
Once again you will need boots to launch a boat. I believe it will only get worse in the coming days.
Now that the water temps are pushing 50 degrees, dragging crawlers will be the way to go. Current breaks will most likely hold fish and it will be important to slow the boat down in the heavy current.
I have openings next week if you would like to get out.
Good luck!
Jake
4/9/19 @ 11:03 AM
FISHING REPORT
MOON PHASE (19%)
Waxing Crescent
Docks are in!
Fishing is slow!
Good luck!
Jake
3/31/19 @ 10:54 AM
Ramp and wall is under water. Dock is up on the grass alongside the ramp, not in the water. You need tall rubber boots to launch and some quality help to deal with the current, no dock, etc. Doable but not for the novice to tie up the ramp in a cluster of frustration. USGS gauge height in new London has come down about a foot but not down here!
3/23/19 @ 11:22 AM
Soon you may need a boat to launch your boat. Ha! Never seen it so high this early. The ice was still locked up above the railroad bridge. Only one boat out, I did see the water patrol sheriff at the gas station. Looks like he was headed to the river to enforce the slow no wake.
I won't be out until next week to see how the fishing is, I'm headed to De Pere to try for the infamous 30 incher on Monday.
I still have openings for prime dates for the spring run! Call/text/email today!
Good luck!
Jake
DISPLAYING 1 TO 10 OF 128 POSTS