Wisconsin Dells Dam, Wisconsin River, Sauk County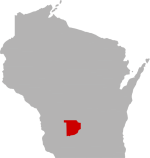 SHARE THIS PAGE
DISPLAYING 1 TO 10 OF 8,973 POSTS
FILTER OPTIONS
10/13/20 @ 4:35 PM
FISHING REPORT
MOON PHASE (14%)
Waning Crescent
Report from the weekend - overall - slow to ok.
Fished Friday and Saturday morning/evening and Sunday morning from boat in area between the rapids and County O boat launch.
Can't seem to get the hang of trolling. Either fishing too shallow or using lures that are too deep-diving or going too slow. Gave up after hooking an anchor line (with anchor attached!) and some fishing line and went back to pitching and set poles. I'll go with someone who has more experience next year and figure it out.
On artificials, only caught 2 - a smallie on a flicker minnow and a walleye on a jig/plastic craw. Lost a walleye boatside on flicker minnow and lost a smallie on a chug bug. Nothing on spinners, spoons, topwaters (almost!), or swimbaits.
On set poles, wolf river rigs with crawlers and minnows, caught about 20 for the weekend of 7 different species: smallmouth, walleye, sturgeon, rock bass, catfish, carp and redhorse. But we sure put in enough hours that if feels like it should have been more. The highlights included a 22 inch walleye (rig/crawler), a 20 inch smallmouth (rig/minnow) and a 44 inch sturgeon that took 20-25 minutes to reel in, messed up my drag, rolled, got under the boat twice, but still managed to land.
That's it for this year. My boat started taking on water more and more, so I hope to find something newer/better for next year to go with my newer trailer. Little by little, I guess.
Thanks to those that have posted reports and shared ideas, successes and failures.
Tight lines.
10/12/20 @ 4:39 PM
FISHING REPORT
MOON PHASE (23%)
Waning Crescent
10/12/20 @ 2:40 PM
FISHING REPORT
MOON PHASE (23%)
Waning Crescent
Did a little trolling and shore fishing this weekend with similar results. Caught walleyes and saugers but all shorts. Lost a couple of larger fish but what they were remains a mystery. I think one was a big pike because another boat landed a nice one from the same spot shortly after.
Beautiful day on Saturday but the river was pretty crowded. What was up with all the boats up at the dam? Fishing must have been pretty good - four boats parked on the island and three surrounding it.
Water temp is 55 and it's raining today. Perhaps we'll get a little more flow and the walleye will start moving up.
10/12/20 @ 10:06 AM
FISHING REPORT
MOON PHASE (23%)
Waning Crescent
Fished from the Kayak Saturday. Started at the Dam in the am and nothing there for me. Floated down and tried several spots all the way to Hawks Beak. Managed a few smallies, one walleye, one whitebass and several crappie. All came on minnow and jig or minnow and split shot rig. Fantastic weather and a ton of boats/fisherman. Most guys I talked with were finding it very slow.
10/9/20 @ 9:13 AM
FISHING REPORT
Fished yesterday from 11 to 6. Slow bite but we managed to catch 10 or so smallies and walleyes ... all shorts. Some on jigs with plastic but most on minnows with a split shot. Very light bite ... missed as many as we caught. Beautiful day on the river. Nothing on the stringer but that's ok ....
10/6/20 @ 7:40 PM
If you are targeting walleye/sauger, you can't go wrong with a jig and minnow. I typically use 3/8 oz jigs, but may jump up to 1/2 oz if the current is moving. Keep it vertical and gently lift up about 6" and let it fall. The fish will typically hit on the fall, so you will feel weight and a tug on the next lift. Don't let that jig drag the bottom...lots of snags in this river.
Tight lines-
WalleyeGuy
10/5/20 @ 10:55 AM
FISHING REPORT
MOON PHASE (87%)
Waning Gibbous
Fished all day Saturday and until noon on Sunday with my nephew. We did pretty well trolling for walleye and sauger - took home four 16-18" keepers. Thirty fish of various species overall. Tried a bit for crappie but only found two. Things pretty much shut down at noon on Sunday. Lots of boats out.
DISPLAYING 1 TO 10 OF 8,973 POSTS