Windsor Lake, Dane County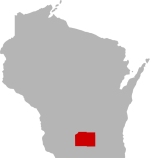 SHARE THIS PAGE
DISPLAYING 1 TO 9 OF 9 POSTS
FILTER OPTIONS
2/22/19 @ 3:01 PM
FISHING REPORT
MOON PHASE (86%)
Waning Gibbous
We got a chance to go out to this lake today because it is one of our favorite lakes to fish in the spring and summer. I drilled four holes in different locations and was unable to find any fish they must be somewhere I don't know about. ????
2/24/16 @ 10:08 AM
Hey Eckes. Glad to see one started for this location. I don't ice fish at all, but hit this location enough in the soft water season. I have never caught a single keeper sized gill or crappie from here, but plenty of small ones. Just a great place to take the kids. I live 1/2 mile away, so when I want to go fishing for half hour, it works great. Caught plenty of nice largemouth out of here. Biggest was around 5 pounds. I do most of my fishing right off of Lake Rd, not down by the golf course.
Good luck, and keep up on the posting.
2/24/16 @ 8:37 AM
FISHING REPORT
MOON PHASE (96%)
Waning Gibbous
I had to start a thread for this lake?? Huh, never had to do that before. Unfortunately, not a lot to post about- Ice was plenty thick, and the last couple days you didn't need to drill unless you wanted to try somewhere without a hole - but the holes from past few days still open which is nice. I put 2 minnows out- one on a tip, one on a pole suspended a little more. Then jumped around jigging. Stayed mainly toward golf course side- in past that is where I have luck (in kayak). Similar to pond behind Timbers- lots of dinks but all gills- no other species for me. About 15 fish in 2 hours- not terrible- but no action on minnows - bummer - got a nice 19" bass in the kayak last year... Still with this weather thought I would try- think there are some nice fish there- just gotta find em- good luck!! J
DISPLAYING 1 TO 9 OF 9 POSTS