Willow Spring, Waukesha County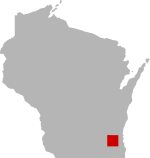 SHARE THIS PAGE
DISPLAYING 1 TO 10 OF 57 POSTS
FILTER OPTIONS
Iceman40, the lady your talking about was on spring lake through the channel on willow spring. His name was Ray Schnitzler i used to paint those boats every spring for them when I was a kid.those days are long gone.you can still fish spring lake but no motors on that lake also. Public access is off of highway I and through Arbor heights subdivision and you have to walk to the lake from the parking area. Have fun.
FISHING REPORT
Thanks for the heads up on auger. I fished it twice this past week.. first time ever out here. Solid 4"-5" most places in 5-10 feet of water. But the ice was super sketchy in few areas... We were sitting in about 10' of water and I moved about 5 yards closer to shore to find better weeds and 1 poke with the spud went all of the way through... definitely would've went in if I wasn't spudding.
Fish report: small mixed bag of 5" panfish and 1 small LMB on a tip up. Good action, poor quality.
If anyone has any tips, please pm.
DISPLAYING 1 TO 10 OF 57 POSTS