Whitefish Lake, Sawyer County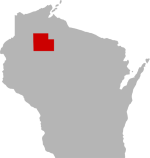 SHARE THIS PAGE
DISPLAYING 1 TO 10 OF 40 POSTS
FILTER OPTIONS
3/1/19 @ 2:31 PM
FISHING REPORT
MOON PHASE (20%)
Waning Crescent
I was out this past weekend we did pretty good on the whitefish, got 2 walleye and few crappies. Most of the whitefish we caught were from 30-40' with swedish pimple tip with waxies, purple and pink were the hot colors.
2/22/19 @ 8:06 PM
FISHING REPORT
MOON PHASE (86%)
Waning Gibbous
Fished 9 to 3. Managed 2 that were 18 inches. Tough bite today. Drilled a lot of holes. Fished anywhere from 50 to 75 fow. Lot of snow out there. Snowshoes and smitty trekked well. Even ran into Al from pastika's. Been long time since I seen him.
2/19/19 @ 6:55 PM
FISHING REPORT
Fished from 1:30 till 4:30. Fished same structures as I have been. Marked fish in 65 fow but would not bite. Managed one 12 inch walleye. It came in 50 fow, that's right 50 fow. Marked a few more but they would not bite. Weather forecast just said 7 to 10 inches tomorrow through Thursday. Man I hope not that much!
DISPLAYING 1 TO 10 OF 40 POSTS