White Lake, Waupaca County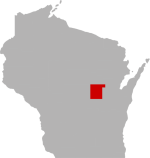 SHARE THIS PAGE
DISPLAYING 1 TO 10 OF 771 POSTS
FILTER OPTIONS
FISHING REPORT
Was out Tuesday 12-29-20. Good 5" of black ice with fresh snow on top everywhere we went. [Note: there is an aerator east of the island, so don't assume lake is all 5"]
I had fished in Summer via kayak and caught bluegill North of the Park Ave landing, and I couldn't see or feel bottom with paddle then. I even anchored in what I thought was 7-10'. But everywhere I drilled today produced only 1-3 feet of jigable water with plenty of weeds to snag or hold up on. Walked cautiously towards the east of the island trying to find deeper water, but ice suddenly thinned closer to 4" and surface slushed up as approaching a very large section of the lake where no snow was, and the aerator evidently kept open as of recently. So did not proceed any further or get to anything deeper than 4 FOW. No action all day.
FISHING REPORT
12 bass, 1 northern. 5:30-8am. Overcast, cleared up about 7:30am. Storm rolled through night before. West wind,10-15 mph.
Kayak was perfect for this lake, every fish caught in open pockets along cattails/lily pads. Get in the slop!
All caught on Torrent Outdoors, Apex Swingblade (spinner bait) Sexy Shad w/ a Stone roller trailer.
Facebook messages are the easiest way to get ahold of them. The owner is super responsive.
Does anyone know if they are driving out off the boat landing yet. My wife and I are both disabled and it's hard for us to walk out. I would love to get on some Northerns even if they are small so my wife can catch some. She's never been ice fishing before. We don't care about the size because we donate them to a lady in New London who runs a rehab for birds of prey and feeds them to the Osprey.
DISPLAYING 1 TO 10 OF 771 POSTS