Weyers Lake, Manitowoc County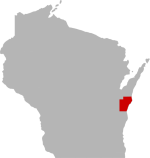 SHARE THIS PAGE
| | |
| --- | --- |
| | @ the lake |
DISPLAYING 1 TO 10 OF 27 POSTS
FILTER OPTIONS
2/10/16 @ 12:39 PM
FISHING REPORT
MOON PHASE (6%)
Waxing Crescent
Fished for a few hours the day before the cold front hit. Once I found them it was consistent action, but most were dollar coin sized. Took five fish home.
12/13/09 @ 10:57 AM
checked weyer"s this morning. two vehicles down there. one was stuck in the ditch. didn"t drive in because the road wasn"t plowed and my truck is only two wheel drive. lake was froze over from what i could see from the road. the two vehicles that were down there, unknown if they were fishing or deer hunting as today is the last day of the 4 day t-zone. they also have a aerator on this lake, but i don"t know if its on yet.
11/30/09 @ 9:55 AM
me and a buddy headed out to weyer's lake, manitowoc county, friday morning the 27th around 9
o am to take a walk around the lake to see if we could jump any deer. as we came down clover road slowing down to turn into the public access a very large dark brown cat crossed the road in front of our car about 40 yards ahead. my buddy says what the hell was that? i said a cougar or mountain lion, but you know the dnr will tell us we are nuts and don"t know what we are talking about.could this and the other sightings in the state along with the numerous wolf sightings be the reason we are not see"ing as many deer?
12/8/07 @ 12:30 PM
FISHING REPORT
Went out yesterday and caught 5 gills in 12 fow. pink and white teardrop, also green. went out this morning for a couple of hours. caught 7 gills in 8-12 fow. Also pink and white. Both days using wax worms. Good luck.
DISPLAYING 1 TO 10 OF 27 POSTS