Waukau Creek, Winnebago County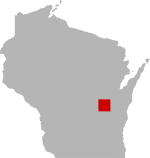 SHARE THIS PAGE
| | |
| --- | --- |
| | @ the lake |
DISPLAYING 1 TO 10 OF 84 POSTS
FILTER OPTIONS
3/31/19 @ 9:58 PM
Don't quote me on it, but I'm pretty sure bowfishing season starts in winnebago county on June 1st. Definitely illegal to shoot them within 200 feet of the dam, and if you could please remember to take the fish with you and dispose of them properly. It would be great if we could go this summer without maggot infested corpses lining the trails.
I'm all for killing carp, but not at the cost of ruining the shoreline.
3/26/19 @ 10:47 PM
FISHING REPORT
MOON PHASE (65%)
Waning Gibbous
Made a quick trip around the pond with some particle bait for carp. The water is unfortunately still too cold, and will require at least another week and a half or a good warm rain to start the spring run. Frogs are out of hibernation and water beetles just hatched though, so it's coming at least. Creek paths are still closed off with minor residual flood waters. No fish, but it was beautiful outside, so we have that going at least.
DISPLAYING 1 TO 10 OF 84 POSTS