Washington Island area, Door County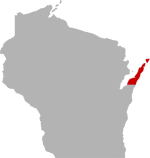 SHARE THIS PAGE
DISPLAYING 1 TO 10 OF 185 POSTS
FILTER OPTIONS
I use the "windy" app. usually pretty good for the great lakes area. I use the gust speed. Seems to give you a real world wind condition. It says gusts 20+ on saturday and sunday morning. You will def. be stuck on the east side of the island. Not worth the trip from the mainland without the ferry.
FISHING REPORT
Fished early Saturday evening around the north end of Rock Island went 3 for 4.
Two Kings came on the Flasher fly combo down 60 feet
Brown trout came on 7 color with Orange Easter Egg spoon
Third hit came on the Flasher Fly combo down 60 feet
Is there any good fishing spots open to the public from shore on the island (other than by the ferry docks). Going to be camping on the island next week (arriving Monday, leaving Friday) and was looking for a spot to take my son (and possibly some other youngsters), where we have a decent chance at catching something. Thanks for any info.
Well its been many years but, this brings back good memories. I worked on the island on summer. I did very well, in Jackson Harbor for small mouth, a few walleye's I fished it almost every evening. Old timer on the island needed a fishing partner and the both of us would catch a dandy mess of jumbo perch in Detroit harbor from his little skiff. I had a deal where I funneled business to one of the local salmon charters. When ever he was not busy I got a free ride and fishing in, usually every other week all summer. I waded Jackson harbor, also caught small mouth off the potato docks. what a blast. Never consistently caught walleye, but I sure caught some dandy smallmouth. All I ever kept were perch and typically was given more salmon than I could ever eat. life was good.
I went back through the reports and most activity is from Sept-Oct. I will be camping up this way next weekend and wondering if there's any Walleye action or if it's only Smallies and Salmanoids this time of year...just need to know what gear to bring. Any info would be great.
DISPLAYING 1 TO 10 OF 185 POSTS