Upper Gresham Lake, Vilas County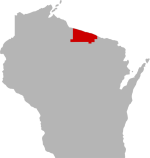 SHARE THIS PAGE
DISPLAYING 1 TO 10 OF 45 POSTS
FILTER OPTIONS
7/22/15 @ 10:09 AM
FISHING REPORT
MOON PHASE (36%)
Waxing Crescent
Fish upper Gresham the week of july 11-18. Caught lots of bass in the 12"-14" range with an occasional larger one. Got one 32" musky on a Crane bait and had another nice fish follow on a bucktail. Lots of gills and crappies for the kids to catch.
9/1/12 @ 12:06 AM
RUNDEMC,
You can get to Upper Gresham from Middle Gresham, however, it can be difficult based on the size of your boat. Approximately five years ago I was able to go from Upper to Middle in my 14 foot, 15 hp boat with the motor up and assistance from an oar once or twice. I don't know if the water level or channel dynamics have changed since then.
I'm not sure if you can get to Lower from Middle or not.
I have caught a musky and many largemouth bass while musky fishing on Upper Gresham. With a topo map you should be able to find many spots that peak your interest. I have a friend who's family has a place on Upper and they catch muskies every once in a while too.
8/30/12 @ 5:19 PM
My wife has rented a cabin on Middle Gresham in Oct. I wondering if anyone can give me any info on this lake. Can you get through with a boat to upper and low gresham? Is this a good muskie fishing lake or what species is usually targeted out here? Any info is much appreciated
8/24/11 @ 3:23 PM
FISHING REPORT
spent last week mon-sat camping and fishing. we caught allot of gills but most of them were small, did get a couple of 8 inchers and 1 that was 9 inches. i think that we get more largemouth bass than anything else. at times you could not get anything else. all small about 13 inches and smaller. first time on this lake so i do not know if this is the normal size here. nice campground we try it again.
DISPLAYING 1 TO 10 OF 45 POSTS