Two Axe Lake, Sawyer County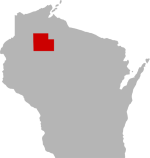 SHARE THIS PAGE
DISPLAYING 1 TO 10 OF 12 POSTS
FILTER OPTIONS
8/5/13 @ 10:39 AM
Does anyone fish this lake any longer?
When I was in my teens, and staying in the area to fish for a week or two, we always took at least one day to fish this little gem. At that time, it was a fish nearly every cast body of water.
Lots of mosquitos, and kind of a pain to walk /carry your boat or canoe in there, but the action was sure worth it.
12/10/06 @ 10:14 PM
fished from 9am till 5pm. 3 guys had about 20 flags, 7 fish. biggest was 23. we lost one that was around the upper 20's. he came to the hole 3 times, but kept taking off be4 we could gaf him. caught some gills(i dont think we caught any over 4 inches long). ice was 3-6 inches
12/8/06 @ 10:42 PM
thanks for the info. the fellow im going with wants to hit two axe becuase of the action we get in the summer. we usually have the best luck in the backwaters. we caught mostly bass on the main part of the lake. we are headed up sunday. hopefully they are hungry. how much snow is up there?? thanks much
12/7/06 @ 8:05 PM
I think the water level is still very low. We ice fished it last year and did very poorly for northerns, Usually we have great action on the lake. If you're looking for Northerns i would drive the extra 30 miles to Musky Bay on Lac Courte Oreilles. We had non stop action and each got our limit. However non were very big. But big fun! If you need info just send a message.
12/7/06 @ 8:43 AM
i've never tried for panfish. i haven't ice fished it before. in the summer we just throw spinners for northern or bass. we noticed the water level was pretty low last time we were there. hopefully they are bitting. we might be going up sunday now, but not 100% sure yet. any other spots to try if they aren't biting on two axe. we have some buddies who have a place on barker lake. have no idea how that is or how it freezes. thanks alot buddy
12/7/06 @ 7:31 AM
Jigerman- I'm also headed up this weekend. I probably don't have time to do allot of fishing but my cabin is about 10 miles from this lake. If your there I may take a walk in and see how your doing if hats OK. I would like to fish this lake this winter but really don't know it very well. I usually just fish for panfish...any luck with those on two-ax?
DISPLAYING 1 TO 10 OF 12 POSTS