Turtle Lake, Upper, Barron County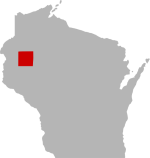 SHARE THIS PAGE
| | |
| --- | --- |
| | @ the lake |
DISPLAYING 1 TO 10 OF 50 POSTS
FILTER OPTIONS
3/14/18 @ 3:22 PM
Tried fishing upper on 3-12 Followed plowed trail for 1/2 mile and then it ended. I went about 50 yards and broke through the second layer of snow and got stuck. Shoveled out and went maybe 30 feet and broke through again. Shoveled out and decided to back up to plowed road. Got stuck again. Shoveled out and went home and got the atv. Atv was light enough to stay on top of the 12 to 20 inches of snow. Went down the lake and drilled the first hole and caught 45 perch and kept 10 that were about 10 inches in length. I fished from 130 to 3 in the afternoon. The fish were from the bottom to 10 feet off the bottom.

3/3/18 @ 9:29 PM
FISHING REPORT
MOON PHASE (96%)
Waning Gibbous
No crappie for us. Got some perch and a few gills. Fished flags most of the day to get the last of the game fish in. Perch were smaller than the norm. The lake gets a lot of traffic now days. A ton of sleeper campers last night. Was a parade out there today. Kinda like when the crappie boom was on lower. Man did that lake get slammed and thinned our quick. Fished eyes for awhile this evening too no a due. Missed some flags last night. A few bait stealers too. Back at in the am. Yeah I tend to keep the bass in spring too as the dnr stated they are well over populated.
3/3/18 @ 10:37 AM
Pantera.. come and pick us up! Or bring me some fillets.... northern will do just fine! But can u remove the y bones!! LOL u got that new fillet knife! Good to see ur getting something.. posted my report LOL again.. u were right.. Tight lines buddy.. c u tell little Pantera nice fish.. proud little guy.
3/3/18 @ 9:52 AM
FISHING REPORT
MOON PHASE (96%)
Waning Gibbous
12/18/17 @ 8:40 PM
This does not just pertain to Upper but to many other lakes. I walked out to fish a spot on Upper and there was another person fishing in the vicinity of where I was going to fish. He came out on a 4 wheeler. I told hom he sure was brave. He said he drilled a couple of holes by the landing and there were 10 to 11 inches of ice. Where he stopped with the 4 wheeler there was only 3 inches of ice. If he would have continued another 50 yards he would have went through the ice. It was still open 3 days ago and was covered with snow. He told me if her knew it was only 3 inches of ice he wouldnt have come out. He assumed that the ice was as thick as was at the landing. I drive by the lakes I am going to fish and know where the ice froze last. Please dont assume and check before you go out.
5/30/13 @ 8:50 PM
FISHING REPORT
Went out from 10am to 2 caught over 100 crappies in shallow water 2 to 8 feet 1 14 inch walleye 6 small northerns 3 bass 3perch 10 gills only kept a dozen for supper wherever you could find a small point with weeds the fish were their
DISPLAYING 1 TO 10 OF 50 POSTS