Tichigan Lake, Racine County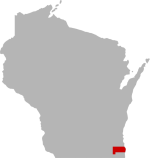 SHARE THIS PAGE
| | |
| --- | --- |
| | @ the lake |
DISPLAYING 1 TO 10 OF 18 POSTS
FILTER OPTIONS
10/4/18 @ 6:39 PM
FISHING REPORT
MOON PHASE (25%)
Waning Crescent
On at 8:30, off at 3:30. Nice day. Just one or two little problems. Started to fish and then my feet were getting wet. It be 30 years the last time I forgot to put the plug in. Fish not giving it up. Then my seat breaks thru and I go down on my new 85 dollar gas tank, crushing it in a little. No problem. I have a 5 gallon pail minnow bucket. I forgot, the cover locks on if you push it down to far. So I put a seat cushion on it and fish. I decide to try a minnow. It took me 10 minutes to get that cover off. That was the last minnow I used today. I never eat any thing in the morning. But no problem. Willie always brings subs along for us. Guess what happened. But at least the fish started to bite. We just pier hopped and put 35 nice gills in the boat along with 50 or more little ones. I have never come down the river from the DNR launch. So guess who got lost. Hey we got the boat on the trailer. Were putting every thing away. I go to pull up the front seat. The next thing you know. I got the seat 4 feet in the air. What is left of the cylinder is rolling around in the bottom of the boat. This all Jeff's fault. because he canceled on me this week. The good news is the rain has ruined my garden, so I have nothing to do. But now I got lots to do. I got a lot of time. No one want's to fish any more. Best of luck to all.

9/26/18 @ 4:22 PM
FISHING REPORT
MOON PHASE (97%)
Waning Gibbous
Out on nice afternoon in search of fall crappie. None to be found but bluegills hitting fatheads well and one 19" Walleye hit a crawler on bottom. Guess that will have to do. Not complaining.
9/23/18 @ 1:52 PM
FISHING REPORT
MOON PHASE (98%)
Waxing Gibbous
Fished here for my first time. Got out before light . Fished for pan fish but didn't catch a thing. Marked lots of fish but not any bites. I switched over to a husky jerk after that and caught two northern my buddy caught one. If anyone knows where I can get some nice blue gills and crappie, maybe even some walleye I'd appreciate the info. I normally fish the local lakes in Kenosha but I'm trying to venture out a little more and hopefully get some walleye.
8/31/18 @ 4:38 PM
FISHING REPORT
MOON PHASE (75%)
Waning Gibbous
Took my son and grandson for a morning of casting. Result: 8 small bass, largest 13". Ten northerns, largest two were 26" and 32". First time this season that I landed more northerns than bass. Water seems to be up a few inches. Definitely a stronger current in the river as witnessed by water flow around buoys. Low to mid 50s before sun was up.
8/15/18 @ 9:13 PM
I realize this is the wrong thread, but it wouldn't make sense to post this on the current thread - no one would know what I was talking about.
Been fishing Tichigan since 2000 and have yet to catch (or see) a flathead.
Kind of fun to think about - any pics?
The Woodlands Resort
(262) 661-3968
DISPLAYING 1 TO 10 OF 18 POSTS