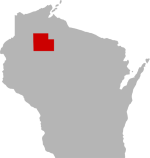 SHARE THIS PAGE
DISPLAYING 1 TO 10 OF 141 POSTS
FILTER OPTIONS
FISHING REPORT
MOON PHASE (73%)
Waxing Gibbous
Jigs tick, had a friend that plowed/caretaked at golf course. Had permission to access the southwest corner. Always did good on the wall eyes out there. Always managed a few muskies as well on walleye rigs. Good fishing if you can find an access.
There is a ramp in the Teal river just off of hwy 77 that is a short run up to the lake. I can't speak to what it is like in the winter but I've used it to put in my canoe during open water. There isn't much current then and I would think it freezes pretty solid. There's plenty of parking for trucks and trailers on the side of the road.
FISHING REPORT
MOON PHASE (21%)
Waxing Crescent
Was up late June 9th for a little walleye fishing to start 5 day trip with group, caught 1 short and a few crappies, fished 8 - 10pm. Our group of 7 had no problem catching our limit of crappies, the fish were still with spawn 2 - 5 feet of water, mainly on mini mites, any color, or twister tails. I managed to catch large and small mouth on live bait. Lost the biggest bass ever, last year caught a smallie just under 20", this fish hit at dusk, came out of water on two occassions and dwarfed last years fish. Our goup did get walleyes, 7 legals, and about 10 shorts from 8-10pm at night. Three boats fishing, and no muskies raised, only one was the fish that smoked my 4 inch bluegill. Was nice to see a variety of sizes of walleye, crappie average size was better again. PM me if you would like more.

Hey Everyone,
My wife and I are going up to Lost land lake/teal lake at the end of august.
Hows the Bass fishing on this two lakes? Mostly interested in bass and panfish. Just looking to have a long relaxing/fun weekend. And would like to keep the wife entertained on the water.
Is there alot of bass in these lakes? Even if they are small im ok with that as they all get put back "CPR" anyway.
Thanks for any input!!!
DISPLAYING 1 TO 10 OF 141 POSTS