Tarrant Lake, Columbia County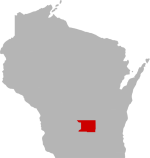 SHARE THIS PAGE
| | |
| --- | --- |
| | @ the lake |
COVID-19 MESSAGE
At Kwik Trip / Kwik Star, the well-being of our coworkers and our customers remains our top priority.
All of our stores remain open to service you.
Please read our message to our guests.
DISPLAYING 1 TO 10 OF 27 POSTS
FILTER OPTIONS
1/27/18 @ 11:47 AM
FISHING REPORT
MOON PHASE (80%)
Waxing Gibbous
Lots of small gills, couple nicer crappie. Pretty busy today for the youth fisheree. I see some idiot even put tipups right in the middle of what appears to be a little ice skating area that was cleared off! Some people I tell ya! Spikes on a marmooska jig was the best for me.
2/18/13 @ 9:45 AM
FISHING REPORT
I took my daughter out this weekend, we got 5 in 5hrs following the 7" rule. People are saying you can get your limit, which is true, if you follow 75% of the peoples 6" rule. The gills are getting finicky and moving shallower, 7-8' of water. They are not at the dam anymore, which is right, this is the norm for this time of year.
12/31/12 @ 2:10 PM
FISHING REPORT
BFS 1890, wait a bit to take your kids. I went today with both kids, there was 3-5" of ice, it was spotty. 4 hrs one flag and no gills, my 5 y/o is very patient and loves fishing, but catching not one fish she was restless today. There are alot of people outthere, but no one really catching anything. 8 people came and went before i gave in. There were upto 19 tip ups at one point, i saw two other flags.
12/26/12 @ 11:26 PM
hey i am looking for a place to bring my kids just for some action to get on some gills.I came here before and did pretty well, was wondering if anyone is fishing here and getting anything worth cleaning any info on this lake or anywhere south of here to get some gills please let me in pm if u want... I DONT WANNA DEAL WITH MONONA THIS YEAR HELP!!!
DISPLAYING 1 TO 10 OF 27 POSTS