Sturgeon Bay, Door County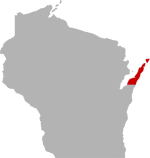 SHARE THIS PAGE
DISPLAYING 1 TO 10 OF 2,812 POSTS
FILTER OPTIONS
9/21/20 @ 1:10 PM
FISHING REPORT
MOON PHASE (25%)
Waxing Crescent
Fished Door County Thursday Friday and Saturday for smallies. Didn't know there was a 95 boat tournament pre-fishing Friday and then tournament was Sat and Sun. First day caught one in 5 fow right away which caused me to beat the banks for hours. Finally found fish but they were a lot deeper than I thought they'd be, around 30 ft. Friday went out to Washington island where we caught a few but couldn't get the larger suspended fish to bite. Headed to Gills rock and then back to Rowleys Bay and finished up in the Mink River. Not much biting anywhere but buddy caught a nice 4.5 lbs hawg in the river. Final day fished around Ephraim area mostly. Did head way out to Chambers Island for the first time ever. Wind and waves were crazy all day long. Bite was really tough and finally found them deep again in big drop offs. Saw the number of fish caught in the tournament was low overall so looks like the bass are still transitioning to fall locations. Tight lines !
9/2/20 @ 8:15 AM
Walleye whisperer, I connect with a snap only, no swivel. Toothyflyguy I believe is correct with going to mono for the reasons provided. I am using braid and I have 2 issues, that is why I am switching to mono. Line wrap at the tip due to wind and leaving the bait fall on a slack line. More importantly too many lost fish. There is no give to the braid and with the hooks provided they seem to come unbuttoned too often. I keep a loose drag but still feel there is not enough give. Very productive technique and a lot of fun.
9/1/20 @ 10:34 PM
Personally I go straight mono. Helps keep fish pinned. You don't have the line wrap your tip as much.
If your not getting line caught while snapping with braid, one your not snapping hard enough and two the bait needs to fall with slack line.
This is polar opposite style compared to plastics. You won't feel a bite till your next snap.
Mono does still hold a place in my heart after this new found technique
8/24/20 @ 2:58 PM
WLFD85
Listen to WDOR radio 93.9 FM for current weather reports and lake temp reports early in mornings when in Door Co. You can also listen any time any where live to WDOR on Door Co. Chamber of commerce website ! Just tab on WDOR listen live on top right of web page . Maybe we can hook up this weekend up there, same time as you ? PM me for my phone # if interested FISH ON <(((((<
PS: You can try and get an individual charter out of Baileys Harbor with Silver Streak Fishing Charters for $150 a person ? if you want to get out for salmon on the Lake Michigan side, if the waves are to big for your boat ! Call ASAP for reservations as Andy does it only when he doesn't have a regular private charter ! Andy is very experienced and has been doing chartering long time, and first mated with a great charter captain when a youngster up there !
DISPLAYING 1 TO 10 OF 2,812 POSTS