Stoughton Millpond, Dane County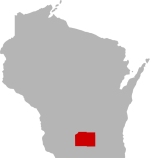 SHARE THIS PAGE
| | |
| --- | --- |
| | @ the lake |
DISPLAYING 1 TO 10 OF 17 POSTS
FILTER OPTIONS
6/6/19 @ 6:10 AM
FISHING REPORT
MOON PHASE (13%)
Waxing Crescent
Blue gill fishing has been awesome,Most gills caght are in the 8-9 inch range with a few close to 11 inches.Lot of bass and bullheads being caught on small jigs and trout worms.Surveyers out again,getting ready to decimate this great fishing spot just to try to bring in the tourist dollars.Soon all the habitat for the birds,turtles and fish will be gone.
Stoughton officials and dnr,shame on you for your total disregard for all things living and breeding in this small piece of fishing heaven.

6/5/19 @ 9:39 PM
FISHING REPORT
MOON PHASE (7%)
Waxing Crescent
This place is always a hotspot, sad that by the end of the year it will all be gone, grew up fishing this spot when I was just a child with no knowledge of fishing, this location was the start of a passion that I strongly have for now, I will always be grateful for the fishing experiences this place gave me. This place had a lot of bass bedding activity every year, always saw at least 15 beds or more. This place held diverse species of fish founded here is extraordinary, just like the dnr rating of this water system. Memories like fighting 20 pound buffalo carps, or fishing under the bridge for bass for days on end to getting your line broken off from 40 inch muskies, this place will always hold a dear place in my heart.
5/23/19 @ 6:21 AM
FISHING REPORT
MOON PHASE (77%)
Waning Gibbous
The bass,northern and gill fishing has been very good the last few days with most fish caught below the powerhouse.I see the surveyers were out and about yesterday marking certian area`s of the property around the dam.If any one knows this area then they know this is a hot spot for multible species.All this is soon to come to an end once the course of the river is changed and the channels above and below the powerhouse are eliminated and the whole area becomes a fast water kayak area with bleachers,condo`s,little shops and cafe`s, a park and other things.
My dad has fished this area for over 60 years and now it is all going to be turned into a tourist attraction with no regard to wild life that use this area.

7/11/18 @ 7:13 AM
FISHING REPORT
MOON PHASE (3%)
Waning Crescent
Fished under the dam with shiners under a large bobber, hoping to catch some toothy critters. Caught 2 largemouth and 2 smallmouth bass. One was reasonably nice. After a while I was about to leave when I hooked into something heavy... much to my disappointment it was a carp!
6/19/18 @ 3:21 PM
FISHING REPORT
MOON PHASE (42%)
Waxing Crescent
Another awesome day at the pond. 27 bass in 2 hours,smallest just over 12in.,biggest 21.5 in.Now yesterday i could not buy a bite,ended up at Lake Leotta which was the hot spot yesterday.Every thing caught on plastic worms.Did not matter if fished Texas rigged or rigged wacky.Place was packed but me and another guy who was fishing wacky were the only ones catching fish.

5/21/18 @ 6:34 AM
FISHING REPORT
Fished the dam/powerhouse area after the parade.For a while i had the whole area below the powerhouse to myself. Plastic worms were the ticket again.Shortly after getting there 2 groups of guys showed up and eventually pushed me out of my spot once they saw i was nailing the bass.There action caused me to go across the road and fish below the dam.This 40+ in. musky was the end result of this move.Fish never left the water,was released and swam away very healthy.

5/14/18 @ 6:37 PM
FISHING REPORT
MOON PHASE (1%)
Waning Crescent
Fished below the power house with a buddy.We were jigging plastic worms.I caught 8 bass,he caught 7. Three guys tossing spinner baits around us,no fish caught.All bass released.Any thing that touched the bottom produced for us.Have pics. but not posting on here.

6/5/17 @ 12:11 PM
FISHING REPORT
MOON PHASE (87%)
Waxing Gibbous
The fishing here the last week or so has been outstanding.More nice bass than i can count.3 keeper walleyes all about 18-20 inches,2 muskies around 40 inches, a ton of white bass.Please do not throw the carp you catch up on the grass.2 times last week i was greeted by large amounts of dead and rotting carp laying on the grass by the dam.Keep it simple and watch others and you will find and catch some nice fish in this area.
DISPLAYING 1 TO 10 OF 17 POSTS