Stewart Lake, Dane County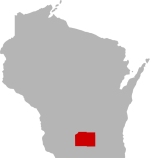 SHARE THIS PAGE
DISPLAYING 1 TO 10 OF 59 POSTS
FILTER OPTIONS
5/21/18 @ 1:01 PM
FISHING REPORT
Went out Thursday, May 10th. Very first cast caught a 14.5 inch LMB. 20 minutes later, caught 15.5 inch LMB. Both bass caught on a Rapala. Surprisingly I didn't see any pike. I threw out some worms and didn't have any luck with those.
1/29/16 @ 9:24 AM
FISHING REPORT
MOON PHASE (72%)
Waning Gibbous
Was out on Stewart last Sunday. We had 6 tip ups in the water for 3 hours and drilled over 25 holes around the lake looking for some panfish. Only had a couple lookers on the Vexilar and no flags. Talked to a couple others who where seeing the same thing. One guy did say a 30 something inch northern was caught the week before. I have fished this lake a few times and usually you get a few flags with some northern and last year every time I dropped a jig down a small panfish would take it. Hoping it was just a fluke last Sunday and next time we will get some action.
1/29/16 @ 8:29 AM
SO never fished here before- thinking of giving it a whirl. Saw some posts of small gills, possibly pike (Big one spotted last year!) Anyone out there? Any info or tips or anything is appreciated. Will post if I make it out there- just looking for somewhere new to fish around Middleton area- Without a 4 wheeler Mendota is too much like work!!
Thanks and good luck all!
Eckes
7/5/15 @ 9:26 PM
Madgill, I fish Stewart and the rock quarry in Verona very heavily and I have seen that same large fish at the quarry I believe it is a HUGE pike. Also just a tip for Stewart lake fisherman, go there early ice and set tip ups with shiners. You have a very good chance to catch 3-4 pike in a day. Good Luck!
DISPLAYING 1 TO 10 OF 59 POSTS