St Louis River, Douglas County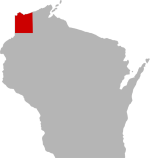 SHARE THIS PAGE
DISPLAYING 1 TO 10 OF 71 POSTS
FILTER OPTIONS
FISHING REPORT
Walleyes have been tricky as of late on account of the drastic water temperature change and mixing Lake Superior water from the ENE winds. Still finding fish scattered throughout the whole system. Channel Cats have been very present of late and will continue to dominate some bites as we move closer to summer. Big Pike have been non-existent this year, but we are seeing a few smaller ones. Perch continue to peck off live bait rigs. Crappies have also been good at hiding and our crappies catches have been very rogue. All the best hooksets, Capt. JH
The City of Superior takes care of the public launches I believe.
Sorry for the untimely reply. These are really the only ones that are on the water: As mentioned, Barkers Island. Another one is Pier B, or you could go up river and camp at either riverside or indian head. Or Mont du Lac Resort is on the water as well, but in any case (except for the camping), you will not be by your boat and will have to walk a ways... Most our clients end up staying at many of the Twin Ports venues, but only the ones mentioned are ON THE WATER. Other favorites not on water: Sleepy Hollow Motel, Amnicon or Pattison State Parks.. Good luck, and if you feel like not bringing your boat, and want to hop in, give us a call and lets see if we can "hook you up". See what I did there? All the best hooksets, Capt. Jarrid
Hey folks, im looking for some info from anyone that lives in the area or is very familiar with Duluth/Superior. I plan to make a trip up in mid to late may and am looking into lodging. Id really like to be on the water but i do not see any options available. If anyone has some insight on this i would appreciate it.
Thanks again, Cronk
Stay safe and good fishin!!!
DISPLAYING 1 TO 10 OF 71 POSTS