St Croix River - Prescott WI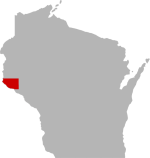 SHARE THIS PAGE
DISPLAYING 1 TO 10 OF 14 POSTS
FILTER OPTIONS
FISHING REPORT
October 23rd, Noon till 5:00pm. Northwest wind, overcast and cold! I started out fishing all of my spots south of the landing without a bite. Finally found fish in 22-28fow south of the railroad bridge to the end of the first dock system with gold jig and minnows. This area produced all saugers, caught 8 in the 15"-18" range. Around 4:00pm went to shallow hole under railroad bridge and found the walleyes stacked on a drop-off from 12' to 18'. Schools of bait fish would constantly go by the graph. I guess that is why the walleye were there, duh. The two I kept had big shad in the belly. Caught about a dozen, maybe more in an hour. All but one over 15" biggest 17.5". A nice smallmouth too. They were biting really light, but never dropped the minnow once taken. Talked to a boat that was lead lining the deeper water and they caught over 60 sauger with jointed minnows. I wish I knew how to do that, but I do enjoy jigging the most. No luck on rippin raps, jigging raps or vibratos....just jig and minnows today. Got really cold in the wind, but was worth it! Good luck.
FISHING REPORT
October 20th, 2020, 8:00am to 11:30am until the snow became too heavy. Water temp was 53 degrees and the flow was slow...almost non existent matched with a southeastern wind. Fished with small suckers and jigs and rippin raps...looking for bigger fish mostly along points and casting to shore. Did mark a lot of fish in the 16'-20' depths on humps. No big fish today, only (8) 14" to 17" mixed walleye & sauger. Did not fish the popular spots south of the Hwy10 bridge or along the boat docks. The only other boat on the water today did fish the popular spots, mostly south of the 10 bridge along the west bank in 13' of water. Said he had his best day ever on the river? The water is really low and needs to cool another 8-10 degrees. Hope the snow and rain will raise the river trigger the big bite...wishful thinking. Will be back out soon as I dont want to miss the window! Good luck!
FISHING REPORT
Fished St Croix out of Prescott WI Sunday November 3rd from 8:00am to 1:30pm. Caught 20-25 walleye & sauger...none over 16". Fish were scattered in 22-24 feet in the big flat areas, 12-16' right below the trail bridge near shore. I think it depended on the water flow. Need to trust electronics to locate the fish or you will be wasting a lot of time. Jig with minnow or jig with chartreuse ring worm brought the same results. Saw a few guys trolling with good results. Saw a guy on shore catch a nice eye casting a greenish paddle tail. Previous week I caught a 23", 24" and 27" (8 lbs) eyes on current seams off points, right on the edge of calm water. Love my spot lock trilling motor. No such luck this day. Going out this Saturday for my last trip before ice fishing hits. Hope to catch some big ones! Good luck to all.
DISPLAYING 1 TO 10 OF 14 POSTS