Spring Lake, Mukwonago WI, Waukesha County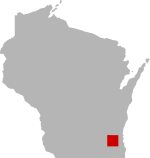 SHARE THIS PAGE
| | |
| --- | --- |
| | @ the lake |
DISPLAYING 1 TO 10 OF 54 POSTS
FILTER OPTIONS
2/10/19 @ 6:07 AM
I don't know what people are talking about,this lake having slab gills or an possible walleye. i've lived on this lake growing up and still fish it because it's so peaceful.but i hate to put anybody down but i dont care if you guided for 100 years this lake has never prouduced walleyes.40 years ago you could get big gills and nice pearch but that has ben a long time ago. thanks to people rapeing the lake.R.I.P. Ray hope they have enough copenhagen and blackberry brandy up there.I miss our talks about the old days.

12/2/14 @ 4:47 PM
FISHING REPORT
MOON PHASE (84%)
Waxing Gibbous
There are no walleyes in this lake, none reported in the 75 years of fishing reports I'm privy to. While I'm sure Chuck Samuels is a fine guide, he's not going to put you on walleye here.
No pike in this lake either, though historically a hammer handle has been caught every couple decades, none in the last 3 decades though. No idea how they arrive, perhaps via stocking downstream.
12/28/13 @ 5:22 PM
FISHING REPORT
First time on this lake for my son and I today 9:00 to 1:00 pm, looks like a nice lake for fishing, but not today. At about 10 to 16 FOW, no fish marked in about 15 holes drilled. Four tip-ups, all at different depths in the water column, and jigging in the other 11 holes. About 6 inches of snow over about 6 inches of slush and water over about 8 to 10 inches of ice.
DISPLAYING 1 TO 10 OF 54 POSTS