Silver Lake , Kenosha County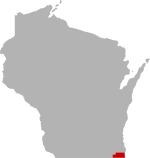 SHARE THIS PAGE
DISPLAYING 1 TO 10 OF 2,658 POSTS
FILTER OPTIONS
9/26/20 @ 10:00 AM
FISHING REPORT
MOON PHASE (76%)
Waxing Gibbous
9/24 Report
Got out late morning. Headed up wind to the South side and let the wind do the work. Broke out my Musky gear to start and picked up a 32" Northern on a Buchertail. Headed back up the shoreline and switched to Bass gear(threw White swimbait and spinnerbait). Picked up a few more snake Northern on the spinnerbait. No bass on the swimbait. Drove to the North shoreline and drifted that. One more snake northern and no bass. Water Temps were high 60's.
9/24/20 @ 9:05 PM
FISHING REPORT
MOON PHASE (57%)
Waxing Gibbous
Got out this morning from 9am til 12noon targeting Crappies, took about 40 minutes and a few small gills before I found the first one, 9incher. Using yellow and pink Mini-Mites tipped with berkley crappie bites. Fishing with a 10 foot Crappie stick and vertical jigging weed lines and pockets in 10 to 13 feet of water. Fish were very close to the bottom, seems like you had to put it right in front of them. Hard to stay in one spot with the wind, had to really work for them. Caught a few nice bass as well, which put up a good fight on a 10 foot poll. Managed 3 gills, 8 Crappies, and 3 bass along with about 6 or 7 lost fish. Water temp ranged from 67.2 to 68.5 lot of weeds floating around out there. GOOD LUCK and STAY SAFE EVERYONE.
DEW
9/22/20 @ 8:06 AM
FISHING REPORT
MOON PHASE (35%)
Waxing Crescent
Tough day on silver, yet again. We casted just about everything in the arsenal, and drowned some minnows. Caught a few small pike, couple little bass, and tiny perch. So while we caught some fish, everything was very small. I'm sure there are some nice ones in there, just haven't found them in my few times on this lake. Still can't beat a day on the water.
9/9/20 @ 9:03 AM
FISHING REPORT
MOON PHASE (57%)
Waning Gibbous
Was out last Friday, very windy but did manage 3 LMB (largest 16.5") & 3 Pike (largest 22.5") - all on plastic & swim baits between 8-12'. Also 2 bonus warmouth.
Hoping the Fall fishing starts to pick up - has anyone done well in the Fall on Silver in the past?
Thanks
Bassin-Emily
DISPLAYING 1 TO 10 OF 2,658 POSTS