Sand Lake- Rusk/Chippewa Cty, Rusk County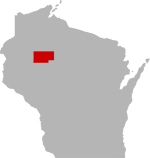 SHARE THIS PAGE
| | |
| --- | --- |
| | @ the lake |
DISPLAYING 1 TO 10 OF 18 POSTS
FILTER OPTIONS
9/26/14 @ 12:59 PM
FISHING REPORT
MOON PHASE (6%)
Waxing Crescent
Was on the lake for the week of 9/13 thru 9/20. Stayed at Wright's Resort all week . Fished hard every day for Musky. Had some sort of action every day but only boated a 36 incher on Thursday. Annual trip for us , can't wait till next year.
7/6/10 @ 7:04 PM
FISHING REPORT
Fished hard all day on July 5th (Monday)
Hot and muggy with a low pressure system in overnight.
Caught a bunch of small bass, not a single strike from a walleye or pike, much less a musky.
Tons of suspended fish (apparently with lockjaw) out in deeper water, could not find anything that interested them.
Lotta loons around, most seemed to be driving ski boats though some had feathers and swam in the water.....
Great lake though, clearly has great potential - I'll be back.
DISPLAYING 1 TO 10 OF 18 POSTS