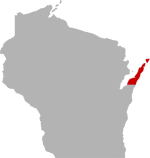 SHARE THIS PAGE
DISPLAYING 1 TO 10 OF 601 POSTS
FILTER OPTIONS
3/11/18 @ 6:02 PM
FISHING REPORT
MOON PHASE (30%)
Waning Crescent
By chance, did anyone pickup a clam ice armor jacket off of high Cliff? It fell out of my sled going out. By the time I turned around it was already gone. It has my car keys and other items in it. Please dm me if you found it. Thank you.
1/16/17 @ 9:29 AM
FISHING REPORT
MOON PHASE (79%)
Waning Gibbous
Was out of sugar creek on sunday. ICE was terrible never seen it this rough. Took 45min to get out and in. Looked like rough ice all over. Also watch out for cracks and shoves. We were out for 2hrs and when we came in we could not follow our trackes from when we came out. This warm weather will not make things better. Be safe out there. PS fishing was very good when we did get out.
1/31/16 @ 7:55 PM
FJW, the ice is varying a bunch. I had 10" where i was this morning, but it was getting nasty with the rain and the water on the ice. I guess some of the cracks opened up. I know a lot of the guides pulled shacks back today and a mule itv apparently put some tires in the water yesterday. There was some very iffy looking ice out there today. If you go be very careful.
DISPLAYING 1 TO 10 OF 601 POSTS