Round Lake (Big Round), Sawyer County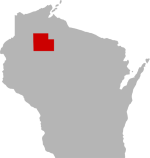 SHARE THIS PAGE
DISPLAYING 1 TO 10 OF 454 POSTS
FILTER OPTIONS
2/10/20 @ 3:03 PM
FISHING REPORT
MOON PHASE (97%)
Waning Gibbous
I went out on Round on the 8th late afternoon and evening. We were fishing for walleyes on one of the many bars on the lake. We fished a saddle between a large reef and the mainland starting deeper (28 and moving shallower as the daylight waned). Bite was slow except towards dark. Marked a few fish, which were somewhat active but were light biters. The fish that came after dark was more aggressive but also bit short. It sure seemed like it should have been a good night for eyes, barometer was right, moon phase was perfect, a storm was just to the south... Round gets the best of me again. For those that were talking about slush, I drove my SUV across the lake and saw trucks out there as well. Not sure what that disinformation was about, but it's nowhere near the truth.
2/1/20 @ 11:08 AM
FISHING REPORT
VietNamakagon, not sure where you were fishing on Round (Sawyer County), but where was fishing there was at least 15" of decent ice with a couple inches of slush ice on top. The slush that I had to walk through a couple weeks ago had firmed up and was fine. I saw trucks off each launch on the lake as well. You should try somewhere else on the lake I guess. As for fishing, I went out this morning early and ran into issues with my electronics among other things and only fished until 9. I was fishing a point that topped out at 25 feet where I was fishing it. Had to leave the lake very frustrated. No bites and electronics weren't working so I couldn't see if anything was down there.
1/22/20 @ 1:30 PM
FISHING REPORT
MOON PHASE (5%)
Waning Crescent
There was one truck on ice on January 17th. We walked out and had about 12 inches of ice. we fished a hump that comes up to about 15 feet. Fished until 9:30 at night with no action. Maybe should have tried deeper water.
DISPLAYING 1 TO 10 OF 454 POSTS