Rock River At BlackHawk Island Area Reports Only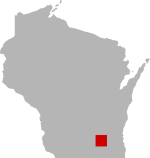 SHARE THIS PAGE
DISPLAYING 1 TO 10 OF 1,896 POSTS
FILTER OPTIONS
FISHING REPORT
Raiders
I'll say it.
Your wrong
Should be a limit just like gills and crappies.
Walleye were heavily supported by stocking in years past. Limits now are now whacked. Should be a slot.
Even though the DNR says different. But they are right.
LOL. Free Caviar for those that agree.
Right? They need to do something til the population gets strong again crappie and whites. I still see alotnof nice crappie but not like before not even 5 years ago they were still really good. But most you find now are average 8-9" max. I'm totally for some reg change on them they are they second hardest hit fish beside the walleye and sauger in my eyes
FISHING REPORT
I remember too Ray. Years ago when we were in HS my future BIL and I used to ice fish on koshkonong at some place called the "Clam Beds" ,I don't remember where that was but we had fantastic walleye and crappie fishing the last 2 hrs of daylight. I don't remember the exact size but can picture #5 ers. The same for huge perch and crappies by "The Springs ". Drove out there in an older 50-51 Nash Ambassador! Always had 2 shovels with us. Lol. That fishing is gone forever CARPIO
Hmmm maybe we should propose an idea to the DNR about a bag limit and size limit on them. I feel the quality of the rock has gone down over the years between edgerton and Jefferson. I remember fishing it daily after school and and slamming big walleye and giant white bass it was a blast but you don't see the same action anymore
The pool on the Mississippi I fish has a 10 fish limit for WB. I brought a limit home yesterday that was easily 2 meals worth for my 5 member family. I'm not going to sit here and blow smoke like so many do about "I fish to feed my family", I spend far too much money in the sport to justify that logic. Take what you need, but there is some gross over harvest going on around the state.
Like seriously though dude is right who needs cooler and cooler full of fish. You can fit how many whites in cooler. Heck we usually take 50-75 whites tops all year, add that in with a few large cat fish and some walleyes and I have enough for personal fish fries and get togethers for almost rest of season and we eat a lot of fish. I though a white bass limit should been put in place on this system years ago. And some our whore bass come front he Dells
DISPLAYING 1 TO 10 OF 1,896 POSTS