Red River/Dycksville bay of Green Bay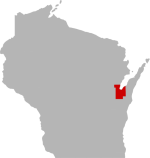 SHARE THIS PAGE
DISPLAYING 1 TO 10 OF 1,397 POSTS
FILTER OPTIONS
yes, ice is done. Even if you find a spot you can get on, don't do it.
As for fishing them from a boat, I haven't heard of people doing it, but that's not to say they don't and I really don't see why it wouldn't work if you can stay vertical. Probably just use the same set up with a long rod (weighted bottom offering and slider hook above). Probably easier to locate them in a boat vs. having to drill holes and drop a transducer down. I think once the water warms up they likely head for the depths, though, so nearshore like when ice fishing may be hit or miss.
When I go fishing I never listen to the weather on TV 90% of the time they are wrong ! Granny from the Beverly Hillbillies could tell whether better than these guys with a matchbox and a cricket !! I always call this number it's spot on every time Wisconsin weather 920-494-2363
FISHING REPORT
Just left the ice at RR. Fished 2 hours 10-1230 in 17 fow straight out. Put one on the ice and botched 2 others. Wind is really up once you are away from shore, constant 10 mph with gusts to 15+ or more. Had a dozen folks there when we arrived and only 3-4 when we left. Saw a few fish iced around us, but seemed slow across the board. Goby imitation bottom rap with red spikes on a red or gold slider. Ice was 16" where I fished and solid but it was slushing up when we walked off. Couple UTVs and ATVs but most were on foot.
FISHING REPORT
I was out at Red River yesterday as well. Fished 8 fow. About 16 inches of ice. Got set up about 8am. Had four whites by 11:30. Action slowed way down after that and I left by 1. The top was slushy by then with ice melt, but it never seemed unsafe. There were a couple UTV's out there. I think there will be plenty of ice to fish into next week unless the wind would break it up.
Fished out from red river yesterday. Ice was around 15" thick, but it is getting very soft in my opinion. Walked out about 500 yards. One fish and lost one just below the ice. Hopefully you can get a report from someone that may have fished today. I would be concerned about winds also. In my opinion the ice is getting sketchy.
DISPLAYING 1 TO 10 OF 1,397 POSTS