Rainbow Flowage, Oneida County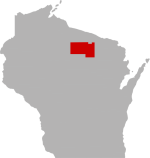 SHARE THIS PAGE
| | |
| --- | --- |
| | @ the lake |
DISPLAYING 1 TO 10 OF 737 POSTS
FILTER OPTIONS
6/14/19 @ 10:08 AM
Panhandler:
Putting your answer here for the sake of you seeing the thread that is full of more information to put to you use.
It is always a good idea to maybe be a bit more cautious until you have a trail down of some deeper water. There are places that you can run and places very close by that may dry dock you or you may find some new wood...
Musky Ben
5/5/19 @ 3:14 PM
Lots of Bullhead in the rainbow now. Maybe too many. But they are very tasty for sure.

Dewey Catchem and How Guide Service
(715) 892-2751
8/11/05 @ 12:42 PM
FISHING REPORT
The Walleyes are still spawning on the Rainbow. Lots of the usual undersize males, but a nice limit as well. Fishing wood and rock in 8 - 13 feet using 1/8 oz jig and slip bobbers with fatheads. Had 8 Leeches that were barfed up in the livewell - interesting
Captain Hooks Fishing Adventures
(715) 614-2099
DISPLAYING 1 TO 10 OF 737 POSTS