Prairie Lake, Barron County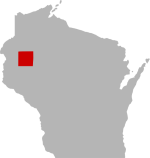 SHARE THIS PAGE
| | |
| --- | --- |
| | @ the lake |
DISPLAYING 1 TO 10 OF 14 POSTS
FILTER OPTIONS
1/22/20 @ 10:04 AM
FISHING REPORT
MOON PHASE (5%)
Waning Crescent
Fished yesterday from about 2:30 until 5:15. I took my ATV out from the Lake View Park landing and turned left and took the plowed road for about a mile. Few permanent shacks were out there as well as a few bigger size trucks. Ice was about 12-13 inches thick. My buddy and I fished 12 feet of water and did decent, a couple 11-inch crappies, some big perch, and a lot of medium size gills. It wasn't hard to find the fish but hard to get some to bite; very finicky. Some people next to me caught two small walleyes on their tip-ups. We might need another week of cold before more people decide to drive out.
11/13/19 @ 8:06 AM
Anyone have a ice depth on the Chetek Chain? My daughter and I are coming up for Thanksgiving weekend and hoping that we might be able to get out fishing. I know its supposed to be a little warmer in the upcoming week during the day, but hoping the cold nights might keep the ice usable if there is enough to start with.
Thanks and Tight lines!!
7/30/18 @ 5:45 AM
FISHING REPORT
MOON PHASE (93%)
Waning Gibbous
Fished Saturday morning for 3 hours drifting with works and leeches in 7 to 10 feet of water ended up with enough for a meal,worms out fished the leeches. Tough bite this time of year.
DISPLAYING 1 TO 10 OF 14 POSTS