Powers Lake, Kenosha County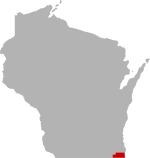 SHARE THIS PAGE
DISPLAYING 1 TO 10 OF 2,044 POSTS
FILTER OPTIONS
FISHING REPORT
fished from 530-10. didn't have boat, so i was on pier. largemouth seem to be in all three stages, with most being in post. this means a ton of roaming bass not in early summer patterns yet so i didn't have much luck with largemouth/smallmouth/spots. caught a few nice 1-3 pounders but on cranks and spinners which was odd. bluegills are hugging the weed lines about to move in for spawning. caught a bunch of ones full of eggs on nightcrawlers(look how fat the one in the pic is!). not very aggressive so you have to find them and cast right on them. no sign of perch or crappie. also no sign of carp. disappointed. tons of hits from pike which kept the excitement up. caught a nice 25+ incher. at this time of year, don't go over the top, downsize. stick to cranks and small white or natural spinners. the rock bass and warmouth bite was great as well. they are a little ahead of the gills, so they were bedding and super aggressive, eating pretty much everything. going back up next weekend, hopefully the bass will start getting aggressive. message me with any questions. tight lines.
FISHING REPORT
Fished from 6 to 10 am. Sun stayed behind clouds making for a long lasting low light condition. Fished shallows, docks, and piers. Saw probably 100 bass everywhere in 2-4 feet of water. None were biting. They were not on beds yet. Fished the sunken island and the bay next to it. Same thing, no takers. We did have a couple short bites all day but nothing got hooked. A small pike hit hear the boat. We tried some of everything. Wacky worming did nothing. I put it in front of their faces and on top of them and nothing happened. sometimes they would swim up to it and then look at it and then turn their heads. Stopping movement or pulling quicker for an impulse strike did nothing. It would be a banner year if I can catch in one year as many as I saw today. We were first on the lake and others left before we did. Everybody else had the same exact story except 2 guys in a boat caught 3 small bass and a small pike. Saw no beds. Give it time. I am sure they will strike when they are protecting the beds. Temp was 59-61
FISHING REPORT
Went out this afternoon Solo....1st time on the lake this year. Got around 20 or so nice Gills today....fished shore lines...very shallow where weed clumps meet the sand...Rocket Bobber with #8 gold aberdeen...no weight...giant red or small fathead. 3 or 4 were over 8" and one 9" Seed That fought like heck and made the whole day worth it!!.I kept 8 for Fishfry. Also 5 LMB ...still swimmin"
Monas Ark Guide Service
(262) 203-6196
DISPLAYING 1 TO 10 OF 2,044 POSTS