Pewaukee Lake, Waukesha County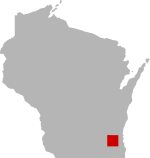 SHARE THIS PAGE
| | |
| --- | --- |
| | @ the lake |
DISPLAYING 1 TO 10 OF 8,032 POSTS
FILTER OPTIONS
8/10/20 @ 1:53 PM
I found my gills suspended over deep water.
I used the graph to find the bait balls, then dropped little crawler hunks and waxies on them.
No real spot, just ran the boat around some water that usually holds bait (for muskies).
Gills tend to make a round shape on the graph. Perch are more of an expanded cloud, crappies look like a Christmas tree as they layer on top of each other.
8/7/20 @ 8:37 AM
FISHING REPORT
MOON PHASE (84%)
Waning Gibbous
Took out a father and his two young boys (7 and 10) for a bluegill trip last night. 2 hours.
First 30 minutes, well, we tried a weedline that had fish all over it. No fish. Couple nibbles, but that was it.
Decided to pull the boat out to deep water and look for the bait clouds. Found a lot of fish out deep. Dropped crawler hunks down there, along with waxworms and caught 53 gills in about an hour and a half. I was counting and it was a competition between the brothers. When we finished, the older brother "won" by 5 fish. And boy, he let his little brother hear all about it....and my wife....and his mom....and his sister.
Dad and I didn't even have time to drink a beer.
No big deal getting on gills, usually. But these were really nice sized. Most were 7.5's. But, I did measure a couple of big ones and they went 8.25 to 8.5. No 9's.
Very impressed with the size of the gills.
The key to our fishing was searching out bait in deep water, then dropping a bait over the side of the boat down to the depth where we saw fish on the graph. That was usually 8-10 feet down.
I'd post pictures, but per their request, they didn't want to give away their new favorite spot!
We did put about 20 in the livewell.... After about ten minutes, dad decided he did not want to clean fish all night, so the kids had a blast catching gills with their hands and returning them to the lake.
Great little trip on the lake.
8/6/20 @ 11:08 AM
FISHING REPORT
MOON PHASE (91%)
Waning Gibbous
Water temp was 75-76 last light on the west end both north and south shores. Water is rather cloudy considering how clear it was in June. Pitched jigs and live bait about the weed edges and only got 2 small walleye and 2 small bass.
8/6/20 @ 10:20 AM
Was out yesterday afternoon, Wednesday. Water in the West end definitely felt in the mid 70's. Notice I said felt, I don't have a thermometer on my old Eagle 7200 locator. My wife and I caught the only two lost bluegills in that end of Pewaukee for 3 1/2 hours of fishing. Report from another boat the same. Saw something very large surface like a dolphin and head back down. Big dorsal fin. Don't know much about muskies but if they are hungry right now it might explain why no pannies around the weed beds. It was really dead out there.
DISPLAYING 1 TO 10 OF 8,032 POSTS