Pell Lake, Walworth County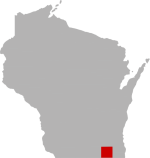 SHARE THIS PAGE
| | |
| --- | --- |
| | @ the lake |
DISPLAYING 1 TO 10 OF 208 POSTS
FILTER OPTIONS
1/7/17 @ 3:14 PM
FISHING REPORT
MOON PHASE (71%)
Waxing Gibbous
We are out right now in our big white ice shack, got 2 tipups out but nothin yet, we took our suburban on the ice to pull the shanty and even with 7000lbs we didnt hear a single crack on the ice drive, good luck guys and tight lines! Be safe out there!
1/3/15 @ 12:36 AM
The thick ice has always been the problem with pell lake. if the oxygen pump isn't put in the lake, and we get a nasty winter, the oxygen gets burnt up. resulting in the big die offs. Used to live near pell lake, moved up north now. it's a shame to hear it died off again last winter. it needs that air pump every winter for there to be any chance for them.. I will say this though... most people know about the abundant pell lake dink bluegills. about 5 or 6 years ago when pell lake died off, it was the best thing that ever happened to the lake. the few fish that did survive were given the chance to have some substantial growth the following year. we caught many bluegills that year in the 8 to 9 inch range, with a couple pushing 10 inches. I never thought that would happen here. Also, the crappie fishing was excellent too. lots of crappies in the 9 to 12 inch range with some that were 13-14 inches. I think that year and the year following I fished pell lake more than any other lake for panfish.
here's what I would recommend, come early spring after the thaw, go to the channel and try for them gills and crappies, and see what happens.if you catch some biggins, it's probably going to be a year worth fishing there. a lot of guys don't believe me, but it was true. and it was awesome.
DISPLAYING 1 TO 10 OF 208 POSTS