Pelican Lake, Oneida County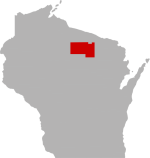 SHARE THIS PAGE
DISPLAYING 1 TO 10 OF 2,697 POSTS
FILTER OPTIONS
FISHING REPORT
Spent a week vacationing on Pelican mid July (17-24). Water was clear, surface temperature was 82F. Only bait we used was Big Reds and we used slip floats and jigs. The day after arriving I took my 10 year old daughter out mid afternoon. Tried some spots near the rock danger buoys with no luck. Then tried weeds near some deeper holes and my daughter caught three 20" smallies within about an hour. She loved it. Fish fought hard and wore her out. Her arms were shaking and tired but she got them back to the boat so I could net it. I caught a few smaller ones between 12 and 18". Also tons and tons of tiny perch. Once the rain came through and the temperature dropped, the bite slowed way down. Water temperature bottomed out about 75F. Mixed in was one legal walleye, some small walleye, pumpkinseed, and bluegill. All fish were caught in less than 10 fow.
FISHING REPORT
Very slow opening day. Water 48 in am, 52 in evening. Seen some muskies cruising shallows was the most interesting part of day. Boated dink walleyes and did not connect with any smallmouth.
Spearing is one thing but the DNR also retrieved eggs from a bunch of walleyes on Pelican this spring with offshoot headed somewhere else. Muskies were also done with a bunch of them expected to get returned in the fall.
I don't get into the species arguments as I enjoy fishing for all of them. Balance is key!
But do not believe the lake is being managed appropriately.
DISPLAYING 1 TO 10 OF 2,697 POSTS