Palmer/Tenderfoot Vilas County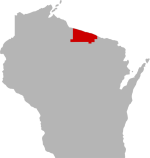 SHARE THIS PAGE
DISPLAYING 1 TO 10 OF 97 POSTS
FILTER OPTIONS
8/19/19 @ 11:22 PM
FISHING REPORT
MOON PHASE (85%)
Waning Gibbous
Late report from last week. Was fishing for Muskie on Tenderfoot. Didnt raise a single fish. Water clarity wasn't what it was last year. Couldnt see as well. 4 of us casting different baits, no hits and no follows as far as we could tell. Use caution when traveling from Palmer to Tenderfoot! Where the two white jugs are directly across from each other, I hit something and took a quarter size chunk out of my skeg. was traveling about 3mph with the motor trimmed up but I guess not high enough. In the center of the channel between the 2 white jugs is where it happened.
tight lines,
Riverhunt
9/17/18 @ 8:19 PM
FISHING REPORT
MOON PHASE (57%)
Waxing Gibbous
Warm weather fishing on the palmer/tenderfoot.
I didn't hit the rocks described, but I didn't go looking for them either. Sometime I'll take the time to look more.
Palmer fished the reeds in the middle and the deeper side to the south, found the panfish/perch. No size and quantity but definitely present.
Took ride into tenderfoot. Fished the middle in the shallow humper and then the shoreline on the south east. Eagle kept a good eye on me. Lots of one surprise eye in the shallower waters and same experience as in palmer with pan fish.
Unfortunately no fish dinner
8/6/18 @ 2:14 PM
If you're heading north up to Tenderfoot, the big rock is located about 300 yards south of the actual river mouth. It is NOT in the center, it's on your right (starboard) side. If you line yourself up with the center of the river entrance and stay left of center, you'll be fine. DO NOT veer right of center at all.
Until October, the rock is marked with a jug and along with that, 2 jugs to mark the entrance to what I call the Pile. Its basically a wall of rocks that are about 2-300 yards south of the big rock. Your depth will go from 6ft to 2ft in a heartbeat.

Play it safe, when you get to an opening in the weeds about 1/4 mile from the river mouth, trim up and no wake up the river until you can gauge where the hazards are.
I've owned a home up there for 16 years now and if I had a nickel for every prop/lower unit I've seen destroyed by the rocks and big rock, you know the rest.

8/6/18 @ 1:09 PM
FISHING REPORT
MOON PHASE (29%)
Waning Crescent
I was up on Palmer/Tenderfoot last week and the big rock is right in the middle of the river mouth. Can't miss it as it was marked with a jug. Even without the jug it's easy to see. Go slow, pay attention, stay to the left or right side and you will be fine.
8/6/18 @ 12:59 PM
Not a fishing report (yet)
I would like to try these two lakes in September. Raeding posts, I see mention of rock on palmer side of channel
Where is rock, is it in middel, in the mouth of creek, is it marked, thanks
I use worms and bobbers, from the reading it should be fun. Report in a few weeks
DISPLAYING 1 TO 10 OF 97 POSTS