Oconomowoc River, Waukesha County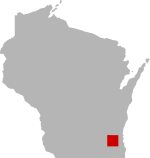 SHARE THIS PAGE
| | |
| --- | --- |
| | @ the lake |
DISPLAYING 1 TO 10 OF 57 POSTS
FILTER OPTIONS
5/3/19 @ 9:41 PM
Dropped by the electric carp barrier this afternoon and I was absolutely disgusted by the rediculous amount of litter and dead carp floating everywhere!
The landowner recently put up posted signs and I certainly can't blame him.
What bothered me the most was the two empty plastic bags sitting there which easily could have been used as trash bags to pack some of the garbage out of there.
Maybe it was done intentionally to serve as a reply to the landowner(s), I don't know but this is exactly why the posted signs were put up in the first place I'm sure.
I know that the following suggestion isn't legal, but a guy could always slit the bellies of the carp so that they fill up with water and sink rather than slitting their gills and throwing them back to rot on the surface.
Hopefully these people get to read this post because this is just disgraceful. You give all anglers a bad name.
DISPLAYING 1 TO 10 OF 57 POSTS