Nancy Lake, Washburn County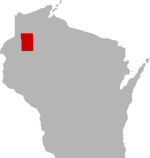 SHARE THIS PAGE
DISPLAYING 1 TO 9 OF 9 POSTS
FILTER OPTIONS
I've fished this lake for close to 20yrs now (seriously for the last 10yrs). The average fish isn't too impressive but there have been exceptions. I've hooked into (but lost while netting) a 23"+ largemouth in the shallow lobe - a trophy in any lake. I've also caught (and released) a 53" muskie in deep lake and have spotted 6 or 7 40"+ muskies in the past several years. I've also spotted a couple 35"+ Northerns. I've never caught a smallmouth in the lake despite the species tables that say they're present. Lake Nancy is currently teaming with small northerns and largemouth and a healthy population of panfish. I only spend a week or two fishing here every year but I enjoy every minute of it.
FISHING REPORT
Fish Nancy for the first time was out there 12 hours and came home with 4 gills and a bass,not good for that amount of time. But i think in time the gills should turn on have to try again in March
i am going up to the cabin this weekend and looking to ice fish nancy lake for the first time... i have fished it every summer for the last 15 yrs but never ice fished it. can anyone help me out and tell me the ice depth, if the fish are biting, if people are driving out, what people are catching... any info would be appreciated. thanks
Oh where do I begin? Fishing partner and I went to check out a "Hot" musky lake before the opener. What a dissapointment! We really enjoyed the shallow, soft sand launch without a pier, and ample parking for one rig. Checked main lake basin, break lines, mid lake humps, under water points, shallow bays, and weed lines (where available). If you're looking for bass and small northerns then this is your destination lake. It was somewhat disconcerting to notice the abundance of pontoon boats, and the lack of fishing boats at the docks of the lake residents. In my humble experience there are too many good lakes in the area to spend time fishing here. I would've attached a photograph but we forgot to take a picture of our cooler full of bait.
DISPLAYING 1 TO 9 OF 9 POSTS