Namekagon River, Washburn County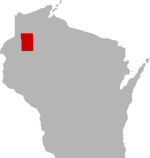 SHARE THIS PAGE
DISPLAYING 1 TO 10 OF 16 POSTS
FILTER OPTIONS
4/20/19 @ 3:26 PM
FISHING REPORT
MOON PHASE (98%)
Waning Gibbous
Almost a repeat of my last post 5 years ago. took the grand kids and we got 8 redhorse in 1 1/2 hours near Earl. Females hard and males not milting yet. Try to find a back eddy and try all around it. I dont know how deep it was but the line closest to shore at the top of the "upstream" in the side of the eddy produced very quickly.

4/24/14 @ 8:20 AM
FISHING REPORT
Suckers are running good right now.Caught redhorse and blacks yesterday about a dozen in a couple hours.Got one really big one almost looked like a carp. River is running high but fishable. Use a shorter dropper on a slip rig like about 12 to 18 inches because it keeps the bait closer to the bottom.A longer leader will make the bait float up too high because of the fast water. Tru turn hooks are a plus. Springbrook VFW has a redhorse contest this weekend both saturday and sunday full pay out $5 enter. Not sure if its biggest fish or what.I couldnt get any other details than that but never the less it feels good to fish the open water.
7/24/13 @ 12:16 AM
FISHING REPORT
Canoe fished the Namekagon in Sawyer County by Earl with a friend Saturday PM. Used chartreuse jigs with same colored twister tails while drifting and nightcrawlers in deeper holes, eddies, or near deadfalls while anchored. Best action came by throwing the nightcrawler as close a possible to the deadfall and letting it drift below it. Came back with four keepers and had pretty decent action on smaller ones as well - those river smallies are always so scrappy. Even though it was a summer weekend day on a very popular river, most of the other canoeists were very respectful - didn't seem to slow the fishing down much.
3/25/12 @ 9:43 AM
FISHING REPORT
Red horse and white suckers running well.typical river rig. 1/2 to 3/4 oz egg sinker 2 foot leader slider rig. got to have at least 1/3 to 1/2 crawler on smallish hook. If you have less crawler on it seems like you wont get a bite. try any back eddy right where the main current meets the eddy flow preferably more to the main flow than in the slack
8/1/10 @ 7:34 PM
FISHING REPORT
Floated the river today from K to Whis. Pines. Had 2 kids under 6 with us in the canoe so tough to get real nuts fishing. Caught several just short of legal smallies. Saw tons of suckers, so huge ones too. No muskies spotted. Several osprey, deer, etc. seen along the way. Good fun short trip.
DISPLAYING 1 TO 10 OF 16 POSTS